The free version of the software you're using at the moment has several key features missing...
....And I wanted to give you the chance to get in at the beginning.
You will not only see this software developed over the coming weeks and months but straight away get plenty of extra features not available on the free version.
Since first introducing this software I have been gradually developing the full version.
Latest Update
Their version (the one I am about to offer you) has some great features that are not available in the free version.


Features like...
* No of Dob's over 50% filter activated (So you filter the selections based on how successful they have been).

* 11 Am BSP price column and an extra filter. (So you can filter runners by the price information).
* 1 PM BSP price column and an extra filter. (So you can filter runners by the price information).
*
P/L
(profit and loss) round-up on the horse's screen (You can see at a glance how profitable a horses DOB history has been).

* Day by Day back history (This is new and will take some time to fully integrate but you can start to go back and see result from prior days.)

History includes ipMin (in-play minimum price), result, tick value and BSP.
* Selection Link. (Once you have come up with an idea the link will automatically select the runners based on the criteria.)
(There will also shortly be a bot link for those that want to automatically trade).
* Bot Link. You can now use the Dob Software with the GHBot full.
* The full DOB "How to and manual" guide.


*
Time Check Prices
Click on any horse and see their prices at certain times during the day.
* Tick Calculator - Automatically find out what price and stake you need to add based on your preferred "Tick" value.
* Video Trades - 6 videos so far on how I use the software to find profitable trades.


As time goes on the differences between the "lite" version and the full version will rapidly increase meaning you will be missing out on some amazing features.

If you can see the full potential of the DOB Software then you are going to love this.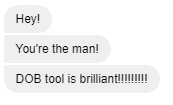 The Dob Software is a truly amazing piece of software that can help you find all kinds of trades.
By unlocking the full version you open up even more Dob and trade possibilities.

DOB Software Offer
£57
today
when you purchase today (3 months license)
We do not normally use Paypal so If you would prefer to use PayPal then please send £57 to sales@bluebelldata.co.uk mentioning that you are purchasing the "DOB Software" please allow us a little time to set up your members account when using paypal.

Q&A.

Q. What computers does the software work on?

A. The software is browser-based (Chrome, IE, Safari, Firefox etc...) so works on any computer connected to the internet.


Q. Why do I need the software?
A. If you are serious about trading or Dobbing using any then you need to research the runners you are going to trade on.

The dob software shows you a horses history based on successful Dobs. But it goes much further giving you vital statistics to make decisions on.
If you are struggling to find selections that are good to trade on then the Dob Software is the tool you need.
Q. What is different between the free version and this version?
A. Wow...That almost changes daily. The free version is not updated in any way where as the full version is continually being updated and changed.

There are so many differences that you would probably be better off just watching one of the update video's included on this page to see the massive differences.
"I must say that the dob software is your best"
Until Next Time

Malcolm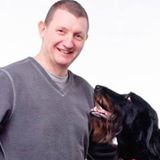 http://racing-selections.co.uk/
P.S. Unfortunately you missed the original offer and if you are not quick you could miss this one as well.
The Dob Software is selling fast and every time I sell 20 copies I put the price up because I believe it's easily worth £97 per 92 days.

But if you take the price it is at today...then you will be offered the same price for renewal in 3 months ...even if the price is higher.