You're About To Find Out How Backing More Than One Runner In A Race Can Give You A Massive Advantage Over Every Other Punter...
Even better you could be winning 91 races out of every 100*!!!
If you are one of those people that hate long losing streaks then you are going to love this :-)
Read on to find out why...
I am sure you have heard of "Dutching"...
This is where you back more than one runner in a race to give yourself the maximum chance of winning.
Normally it involves adjusting your stake on each runner so that no matter which one of your selections wins the race...You win the same amount.
Generally, you dutch 2 to 5 runners...
It makes sense the more runners you can dutch and still make a profit...The better.
If you have tried "Dutching" before then you will know that it still isn't easy picking the runners...And you can soon end up losing money.
Let me tell you about the way I found that lets you pick "Dutch" selections that could win 91 times out of every 100*.


Hi my name is Malcolm and I love programming, statistics and horse racing.
In fact I love all three so much over the last five years I have created my own horse racing database and lots of software to analyse it.
By far my most popular is PR Ratings.

This software allows you to research races with over 50 filters to choose from.
Don't worry I am not trying to sell you PR Ratings I just wanted to show you that when it comes to horse racing, software and statistics...
"I know my stuff!"
I have always been fascinated with Dutching so it stood to reason that sooner or later it would be something I researched.
In fact, the reason why...
...Is because of one of my delegates who came to one of the seminars I ran in 2016 about "System Building".
He was really interested in dutching and even said...
"Dutching must be the way to go..."
We explored some ways it could be done at the seminar.
But his sentence kinda of "stuck" in my head...
...That, and the fact he PM's me on Facebook from time to time asking if I have come up with any new ideas :- )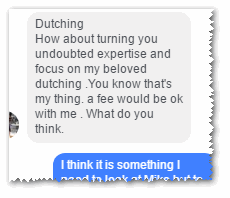 Anyway one day I was analysing some statics on a certain type of race when I realised that a high percentage of winners were coming from the top 4 or 5 in the betting.
Higher than normal that was.
See, you probably know that a high percentage of winners come from the top 4 or 5 favourites in a race already...
...But in this case, it was higher.
So, after a bit more research, I refined the selection process so that I could find these races easy.
It took quite a bit of doing because I needed to include some pricing information as well.
But I finally got it to work and start giving the daily selections that were needed.
That's when I created the "Dutching Selection Software".
" Morning Malcolm ,Just another quick update on how the Dutching is going. It's been 100% so far!"
I'd be surprised if you don't sell tons of this - it's a no brainer! The ultimate set and forget system!"
I'm really loving it mate! Ian (Facebook PM)."
This "clever" piece of software automatically shows you a list of dutch selections which you can easily filter in seconds to show the ones that you want to use.
Even better if you are a GHBot member it has an auto link that will automatically select the races based on your criteria.

Here is part of the software:


* Date: You can look back over the last 6 months results and see how well the selections have done based on the final criteria you choose.

* 11am Cow>. The Combined Chance of Winning is an important part of any dutch calculation and the software selects the races based on 11am Price percentage.

* Only. This represents a specific type of race that wins more often than any other (Revealed to members) and you can limit the selections to this race type only.

* Dutch No. You can ask the software to show you 3, 4 or 5 dutch races.

It's that simple.
Having this software means...
You don't have to spend hours searching through Race Card
You can choose the "Dutch" that suits you (I have made this so simple).
Here are the results from one of the set-ups that I give members (Updated by 11:15am each morning).

Last time I checked it had a 84.02% Strike rate.
And here are the results from one of the other set-ups that I give members...

Last time I checked this one had a 95% Strike rate.
That means on average out of every 100 bets you would win around 91 of them!!!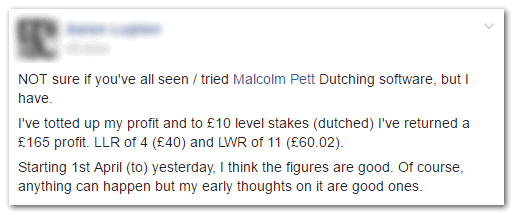 So here's what you get:
3 months use of The "Dutching" Software. It's complete and what's better you can go back over the last 6 months (almost) to see how successful it is.
You get Videos showing you how to use the software and which dutch to use based on experience.
You get 1 PDF Manual explaining about Dutching and how to use the Dutching software works.
"Hi Malcolm
Firstly thank you very much for the Dutching Software/System.
I started on Monday and made the following profits using the recommendations.
I set the COW at 85% and searched for races dutching 4 per race and then again COW 85% and dutching 5 per race.
The results have been excellent so far. 22 races and 20 winning dutches only 2 losing races which were minimal losses as winner was indicated but price just fell short.
Still I have achieved 91% strike rate for profitable races so far which is exceptional.
I like the concept of the system as I have always tried dutching in the past but could never quite get there.
Monday €4.00
Tuesday €4.74
Wednesday €7.63
Thursday €6.69
Total profit €23.06 using just €10.00 (Euros and £'s Similar) as the stake. I set a bank up of just €100.00 so the bank has gained 23% in just four days. The exponential potential is immense.
Many Thanks
Killian"
You can get all this for a full 3 months for just £59
You can get all this for a full 365 days for just £47 (limited)
£57 3 months Just £47 365 days
(Special 365 day license offer)


We do not normally use Paypal so If you would prefer to use PayPal then please send £47 to sales@bluebelldata.co.uk mentioning that you are purchasing the "Dutching Software" please allow us a little time to set up your members account when using paypal.
Q&A.

Q. What computers does the software work on?

A. The software is browser based (Chrome, IE, Safari, Firefox etc...) so works on any computer connected to the internet.

Q. How much can I win per dutch?
A. This depends on the prices of each of the runners but it can be anywhere between 10% and 50% of your stake.
When you dutch you will win back less than your original stake that's the price you pay for having over a 90% chance of winning!
Q. Why do you need the software?
A. The software automatically finds the selections based on my "Secret" "dutching" formula. Without it you would have to trawl the race cards daily as well as check that certain things happen during the morning.
Q. Why won't you just give me the formula?
A. Because it's mine and I worked hard to get it. I don't want to give it away because every time I do, someone ends up selling it on ebay as their own work!

So please remember you are paying for the selections not the actual formula to work out the selections yourself.
Think of it this way...

...I have already saved you from having to do the research yourself to find the system and now I am going to save you even more time trawling through race cards every day trying to work out which selections to "Dutch".

Q. When can I get the selections each day?

A. The selections are normally available by 11.15 am. You will know when they are available because the software will show selections.
Q. Can you give any guarantees?

A. Yes I guarantee to supply the selections through the software Monday to Sunday whenever there are selections available. If you are asking if I guarantee results then No...This is gambling.

But here are some comments from my GHbot "Lifers" who also have the system.



Until Next Time

Malcolm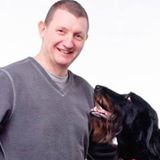 http://racing-selections.co.uk/
P.S. Let me know if you have any questions.
* On Average