I hope if you are reading this you are ready to find a new way of finding profitable horse racing systems...
Here is what one student of mine said from my last years seminar...
"
You might remember I came to your seminar last November and came away knowing the way you look at things was a great help. I have since been tinkering and adding my own ideas to such an extent I have now resigned from my job and gone full-time doing this...
...The detailed suggestions you have put forward the last few days are interesting. I would like to add that when trends run out, I have noticed that often they actually keep going if one narrows down the search..."
He had already figured out what I am about to show you:
If you're anything like me then you probably also like following or creating horse racing systems.
I mean there is nothing better than when you find a system that seems to produce a profit...
The problem is that sometimes they turn out to unprofitable.
Why is that?
Well I believe it is because often we start following a system at it's best...
...And if we took more notice of the "Trend" patterns we could see that we were about to hit disaster.
What do I mean by "Trends"?
Well let me explain...
Take this system which was introduced as a "Shared System" in to PR Ratings late in 2016.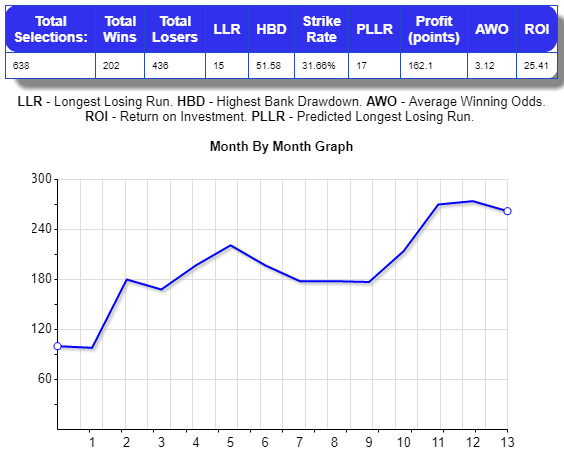 It actually had a good run...
...But lately things have not gone so well.
Could you have spotted that this was about to happen?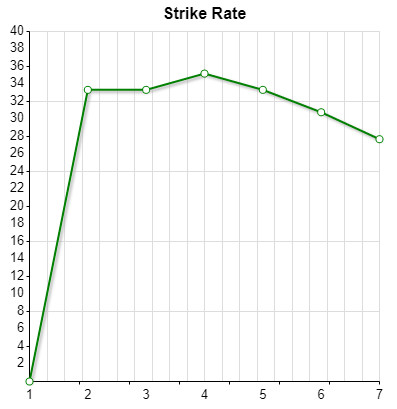 The strike rate had been trending downwards over several months.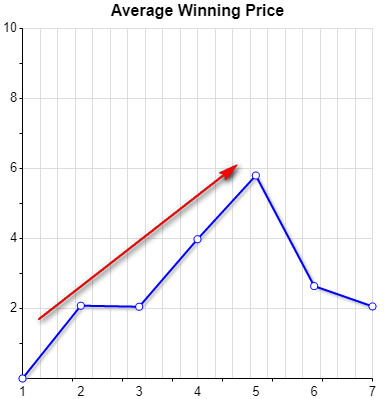 The average winning price on the other hand was trending upwards which was the actual "trend" creating the short term profit.
...But with an average winning price nearly double it's normal you just knew it had to break sooner or later.
2 months later the price and the strike rate dropped to where it isn't profitable anymore.
The markets have adjusted for the time being.
Unfortunately this happens a lot and is why systems often fail.
There is an upside to this.
It's something I have been doing myself for a few years.
The only people I have really shared it with...Is the people who came to my seminar last year...
...I call it "Trend Spotting"
It's what I call my "Guilty Pleasure" :- )
Why?
Because you can kind of sneak in...make some profit and sneak out again :- )
Finding "Trends" within horse racing is about beating the markets at their own game.
It's not hard to see that the markets adjust to what is happening but often this can take 2 to 3 months (in some cases longer) for them to catch on...
...Especially where strike rates are variable and the markets can not quite get to grips with what' happening.
This is why following trends can work so well.
So how does it work?
It's really down to changing your mind set....
Let me show you another example.
What do you think of this...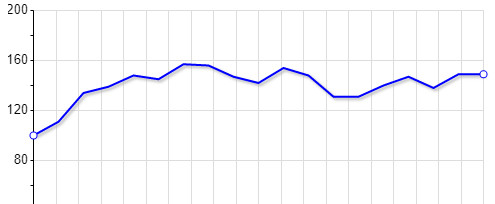 And then this...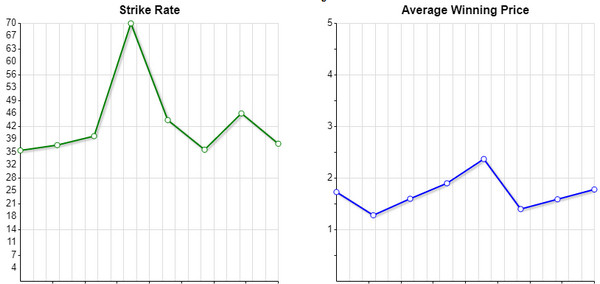 What do you see?
A system that is unprofitable?
Or a trend that you maybe able to ride for one or two months?
(I will show you how to find out in a moment)
Following trends is far by one of the best ways to find profit in horse racing and sometimes a lot of profit.
Learning how to spot them and knowing when to follow them is another thing!
That's why I decided to create a "Trend" video series about this very subject.
For the first time (outside the seminar) I am going to share with you the exact method I use to find profitable trends.
The "Trend" video series will be at least 10 videos (added over the next few weeks) not only showing you how to spot a trend but also giving you a lot of examples.
I have to say one thing though...
This whole series will be created using PR Ratings which also has the trending graphs system which will be used extensively in the course.
This is one of the reasons I set the price so low at the start.
The other one is...
Normally I would record the videos very quickly but because I have had a bit of an illness and I want to really think about the trends I am going to show you...
...I am recording this series over the next 5 weeks.
When this course is finished it will easily be worth £97 or more but as you are getting in the ground floor before all the videos have been recorded...
...You can get it at just over 50% off.
If you take me up on this offer today then you pay just £97 £47
But!
(Yep there is always a but).
Because I think this course will be worth far more than £47...
...I am only making 20 slots available at this price.
This is an "Early Bird" offer that ends as soon as the 20 slots have been taken.
So lets just go over what you get.
1) 25 Page PDF
(Explaining how I discovered trends and showing how you can find them yourself. Graphical Step By Step Guide)
2) There are 3 videos already recorded and waiting for you (Including the first tutorial video and two other trends videos)
3) At least another 7 videos over the next 5 weeks (I always over deliver so there will be more).

4) £1, 7 day pass to PR Ratings V3 (If you are not a PR Ratings owner already).
5) A Q & A session (It will be recorded and added as an extra video).

6) Full email support (You get my personal email to ask me any question about trending)
All this for a "one time" payment of £47.00
Horse Racing Trends Video Series
Just £97 £47 today (18 Left)
(At least 10 videos recorded over the next 5 weeks)


By the way there was possibly another months worth of profit in that second system I showed you...
...The Trends Video Course goes into detail and shows you why you can expect that to happen.
Each video that I produce for the course will show 2 or 3 trends and show real examples.
Short term trends, long term trends and trends likely to happen again will all be discussed.
Trends is one of my favourite subjects and I am really looking forward to sharing this information.
P.S. Not sure how long it will take to fill up those 20 places but I would act quickly!